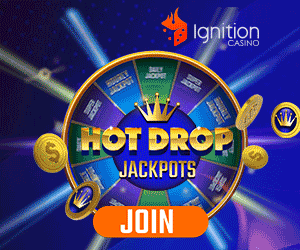 Play Poker

Canadian and USA are welcomed. Compete against other real players from around the World. Find Sit and go, plus scheduled tournaments every few minutes. There is also a wide variety of cash card competitions ranging from 5 cents to as much as $25 for big blinds. You will be competing against world class opponents, so bring your A level play.

Ignition also features live chat and gives its players an option to track the pot size and number of other players at every stage of a hand.

Choose from a wide variety of challenges suitable for meeting the needs of many different types of Internet players. CLICK HERE TO PLAY NOW. Real card games available to play include:


No Limit
Pot Limit
Texas Holdem
One on One Tables
Omaha
Omaha Hi/Low
7 Card Stud
Sit and Go game tourneys for money are available around the clock, at any time of the day or night. USA game entrants are accepted to compete against others for as little as $1, or as much as $1,000. Enter scheduled tournaments, among the many Freerolls and Satellites, to win big cash prizes or seats to WSoP main events.

There is always a large number of multi table and single table game tournaments that are regularly scheduled on a daily basis. You will not have long to wait for your game to begin. Multi table Tournaments are updated frequently for review, with many cheap buy in chances for winning a trip to a land based tournament. You can also play in satellites, to win a seat into the final, or buy into a big tournament table.

Ignition gladly welcomes American and Canadians, as well as those from around the globe, to polish their game skills. Grab your 100% bonus... up to $1,000 FREE at signup. They presently have tens of thousands of worldwide members, USA approved, and certainly ready for hot game action at any given time.

Online Review at a Glance:

Playing currency: US $
Welcome bonus: New Player Deposit and Get a 100% Bonus.
Game selection: Hold'em, Omaha, Omaha Hi/Low, 5 Card Stud, 7 Card Stud and One on One Tables.
Play section: YES. Free tables are available for those who want to gain valuable practice.
Deposit options: Bitcoin, Visa, Mastercard, NETeller, Click2Pay, Diners Club, and more.
Customer service: 24/7 Toll free telephone or email support.

Type of Players: Looking for some action? You will find it here with many advanced players who are serious about playing online. There is no Screen Name to choose. Your playing style will always remain anonymous.

In addition, Visit Now for a large number of Single and Multi table tournaments running on a daily basis. Buy ins for tournaments range from $1 to $1000. Players are also invited to participate in competitions to get ideas as to how tournaments are played without using money.

Buy ins for multi table tournaments range from nothing (FreeRolls) up to $100 (for $100,000 guaranteed tourney every weekend). Multi table Tournament pots are split as follows: 1st place receives 50%, 2nd place receive 30% and 3rd place will receive 20%.

Remember that all the games rely on a basic maximum and minimum wager, and all the betting structures should be understood accordingly. Keep in mind that each tournament has a set limit that is fixed before the action commences. Once begun, the limit remains unchanged until the end. Note also that the tournament organizers, or the casinos, are those who decide these limits.

Even though the United States has not made it illegal to gamble online, it keeps gaining popularity through the different tournaments that are shown on television, such as the World Series of Poker by ESPN. This has created a problematic situation: while real competitors swear that Texas Holdem is not a game of chance, the US government decided that it is.

For a few weeks, panic erupted in the WSoP world as rumors spread like California wildfires that this ban would stop all tournament activity. This eventually proved to be untrue. In fact, because of the online gambling ban, the popularity of game tournament activities only increased. In most of these competitions, the favored competition is still Texas Holdem.

No Limit Betting is the one Texas Holdem version that pulls in high rollers from all over the world. There is not a limit on what amount, or sum, is wagered or raised. Understand that unless you are a high roller, or until you have a tremendous amount of experience playing Texas Holdem in a tournament setting, with no limits, it could become a living nightmare. One is advised to steer clear of such a scenario.

Tthe popularity of Texas Holdem should never be underestimated. It is not advisable to become hooked on it, but it is also not advisable to deprive yourself if you feel like playing it. As long as you know the value of your hand, and that a Flush will always beat a Straight, but also will always lose to a Full House... then go for it!

RETURN TO CASINOS WING